Should You Trade Through Deriv.com?
Curious how some existing trading solutions firm or brokerages would branch out into more smaller firms that offers the same services and capabilities. For all intents and purposes, we will chalk it up as the brokerage's way of gathering more clients as it will be given the capacity to enlarge its scope.
One such firm is Deriv.com, an offshoot of the globally-recognized brand, Binary.com. It is claimed not only by the firm itself, but by other reviewers of Deriv.com that transferring to the firm would prove gratuitous to an investor's career. It could be assumed that this grants the firm a divide-and-conquer strategy with the traders being under one kingdom after all. Regardless, looking at Deriv.com's offerings would be beneficial to the readers of this review, thus helping them to decide if they would jump into the Deriv.com wagon.
Deriv.com: A Short Background
As already mentioned, Deriv.com is an offshoot of Binary.com, a well-known brokerage that specializes on giving its clients the chance to trade Binary Options. Save for nations such as the U.S., Malaysia, and the UAE, Deriv.com is able to conduct operations internationally. It had found regulation in multiple territories, the most prominent being the Financial Services Authorities (FSA) within the European Union and Malaysia. Its regulation from such imbues trust in clients not only from the region, but the neighboring ones as well.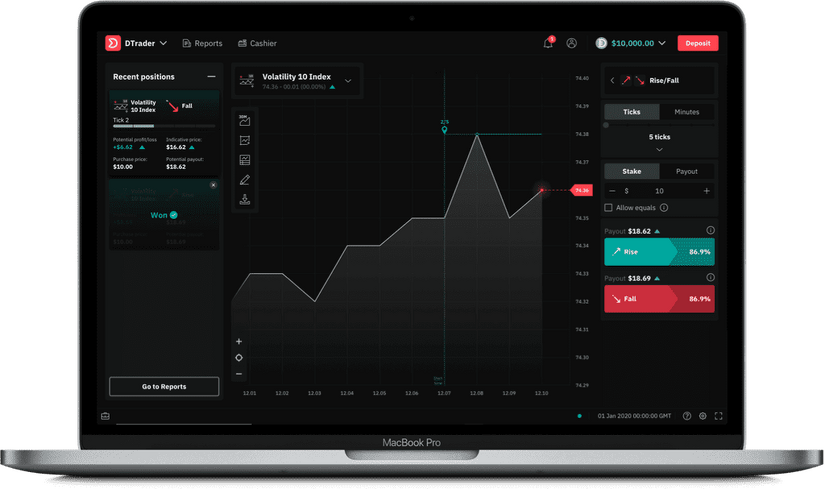 Deriv.com: The Services Its Clients are Privy To
Accessible Markets and Trading Assets
Over one hundred trading instruments can be accessed through Deriv.com. Such are the Asset Classes:
Forex Pairs (50)
Stock Indices (Asian, European, and US)
Synthetic Index
Commodities
Probably what may be seen as both a boon and a bane with the firm's synthetic indices is its system of being randomly generated. The review team supposes that this polarizing aspect is owed to 1. if done at random, traders would not be able to pick from the stock indices but 2. would definitely allow the trader more options. Such, the review team contends, is held opportune as it permits Deriv.com traders to further their knowledge and investment portfolios.
But of course, it should be noted that while the asset classes offer up enticing instruments to trade, it can still be seen as limited. Deriv.con is just a relatively-young offshoot from a more established brokerage. Should it remain standing in the long run, it would definitely grow into a more well-rounded trader that offers more asset classes and instruments.
Multiple Trading Platforms
Including the plan of offering its own mobile trading application in the immediate future, Deriv.com offers 4 software for trading that traders may choose from iconsideration to the type of trader.
DBot
Specializing in Algorithmic Trading, the DBot platform does automated trading. Through this, a trader is able to develop trading bots with ease. Users are also allowed access to over 50 assets.
DMT5
This platform offering allows for the use of analytical tools for trading alongside a number of research tools. Through this MT5 version, the trader would be permitted to open multiple windows simultaneous.
DTrader
Granted more than 50 accessible assets, DTrader allows for customization of its charts. Options for trade types are available through position sizes of $0.35. A number of aplications and indicators are integrated into the platform so as to help the trader navigate through the functions of the software better.
Available Trading Accounts
Deriv.com has three account types that its users can choose from.
1. The Financial Account
2. The Financial STP Account
3. The Synthetic Account
Among the three, the most notable is the Synthetic Account as it allows for a specific niche, the Synthetic Indices market. Accounts falling under this classification are subjected to auditing with the aim of leveraging for fairer trading conditions. On top of this, the account allows for trading CFDs.
Meanwhile, the Financial STP Account makes for a good account to avail of tight spreads and trades of higher volumes at competitive prices.
Deriv.com also caters to the more novice traders through its offering of a Demo Account. In the firm's iteration, this simulation is called the Virtual Trading Account. Its bankroll is not capped and usage bound by time.
Deriv.com's Fee Infrastructure
Low fees are implemented on trades executed through Deriv.com. And while the commissions and spreads have minimal charges, (a welcome implementation) the matter stands that it is still in the transitional period into establishing itself and stepping out of its mother company completely.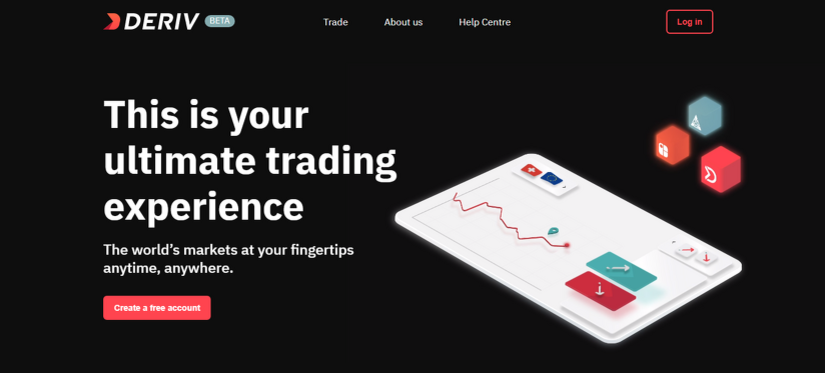 Should We Trade With Deriv.com Today?
Everything laid here out about Deriv.com's services paint it into a positive light. But these should be taken with a grain of salt. We must bear in mind that the firm is still young and is destined to see further developments in its offers and services. The trading platforms, while seemingly efficient for their purpose can be imbued with richer tools and more specific functions.
If one is to trade with Deriv.com, he or she needs to be patient with the tools and the platforms that would be made available. That being said, there is no harm in trying out Deriv.com's services. It should actually taken as an opportunity to expand one's trading horizon