IG: An Overview of the Firm
Regulated by 6 tier-1 jurisdictions, IG is a brokerage firm that does Forex and CFDs trading. IG is traded publicly. 
The company has been operating since 1974.
On the get-go, IG offers over 17,000 trading instruments, trades 93 currency pairs, has competitive Commissions and Fees, Educational and Analytical instruments, available through a mobile application, and is capable of trading Cryptocurrency. For the latter, Cryptocurrencies may either traded here as actual digital coins or as CFDs.
In addition, it allows for Social Trading and Copy Trading.
Since its founding in the 70s, IG has been serving over 195,000 clients globally. The Financial Times Stock Exchange 100 Index (FTSE) had listed IG as a trustworthy firm.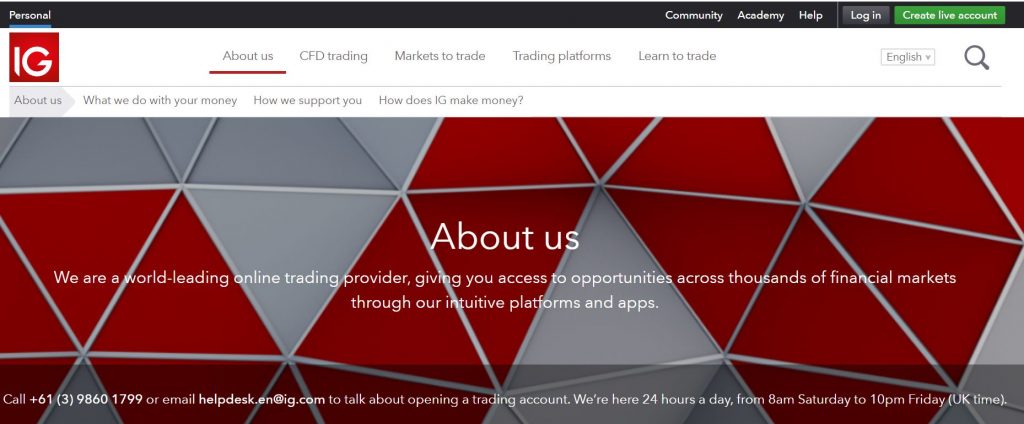 Is it Safe to Trade with IG?
Before we dive in, let's first answer the question in your heads: Is IG a legitimate broker?
The short answer is YES.
IG operates a regulated bank and, as mentioned before, it is given authority to do so by the following:
Australian Securities & Investment Commission (ASIC) 
Commodity Futures Trading Commission (CFTC)
Japanese Financial Services Authority (JFSA)
Financial Conduct Authority (FCA)
Monetary Authority of Singapore (MAS) 
Swiss Financial Market Supervisory Authority (FINMA)
On top of that, IG has 3 Tier-2 licenses and 1 Tier-3 license.
Fees and Commissions
IG's size takes advantage of its size by allowing traders competent pricing. It is not discriminating of what one trades. Forex Direct accounts avails clients active trader pricing.
The following stands:
On EUR/USD (November 2019)
Minimum Spreads: 0.6 pips
Average Spreads: 0.73 pips
IG L2 Dealer platform: £1,000 minimum (leveled pricing from the trader's past month)
IG acts as a broker for interbank providers of liquidity where Forex Direct functions from. And what's good about the setup is that IG does not add more spreads. What the firm does is add a commission to trades made.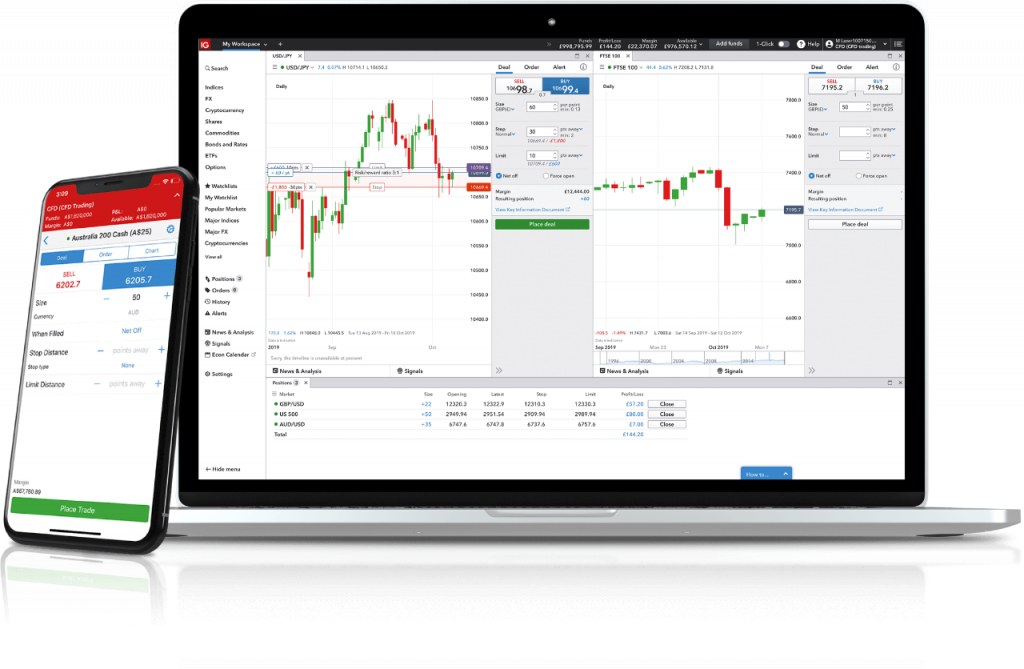 Platform
IG has a web platform. The automatic layout is empty, allowing the client to make the necessary customization even without templates.
IG had also enlisted MT4 as part of its many offers. However, it must be noted that one is allowed to trade only 76 tools. These  MT4 add-ons are from FX Blue.
The L2 Dealer platform is also provided wherein Forex Direct and Direct Market Access (DMA) is available for Share Traders
Charts
The charts that IG provides have the following features:
alerts for particular indicators
28 studies
ProRealTime Charts – has over 100 indicators. Costs £30 monthly and available through Java.
Education
Traders are given the chance to enrich their knowledge through the many research materials made available by the firm:
Real Vision TV ($500 minimum deposit)
Real Vision research ($5000 deposit or more)
News streams from Reuters
Economic calendar
Customizable screener for asset types
AutoChartist and PIA First for signals
An always up-to-date blog called DailyFX

Mobile Application
IG's mobile app effectively mirrors almost all the features of the web counterpart. Twenty-eight  technical indicators and drawing tools are found in the application.
However, with the research function, IG's mobile app is somewhat limited only to news and signals stemming from AutoChartist.
On top of these, MT4 is also made available through IG's mobile version.
Customer Support
IG's Customer Support system is efficient with the average connection time of only 1 minute and service tests with a total score of 8.17 out of 10 from over 330 customers.
The Takeaway
What immediately jumps out of all that was discussed of IG is its versatility in trading Forex, CFDs, and Cryptocurrency. It is also worth noting is its many instruments that translates well into its mobile platform.
But what would really sold one to enlist IG's services is its 30-year tenure in the industry that had led them to gather over 130,000 clients since 2019, allowing them to perform 350,000 transactions daily.
What's even more amazing with consideration to IG's industry existence is the company's ability to adapt and change with the time, effectively riding along the pace of the ever-demanding trading industry.
If we are to scout the internet with reviews regarding the firm, positive opinions regarding the broker will be gathered. Analysts agree that IG's services are top tier while but are still friendly even to novice traders. Apart from that, being an entity that is regulated by 6 tier 1 jurisdictions, IG is sure to have good reputation at its heels.
What this tells the layman wanting to get into trading with IG is that it might be something that one can trust. Tenure is not a mere claim that can be dispelled through negative reviews; it is a testament that the company had endured the test of time through constant service.