Business Secrets from the Bible: Spiritual Success Strategies for Financial Abundance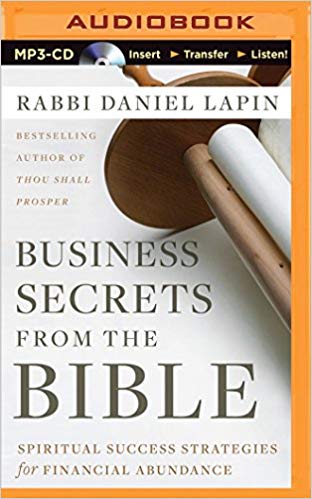 The Holy Bible is seen as the inspired word of God. Much of how the world is today, from our collective sense of morality or the adamant critique of it, is a result of its integration in common thought and politics. But what of the financial field?

What the Book is All About
When the Bible says not to conform with the "ways of this world" or that wealth is always seen as leverage for The Enemy to collect a soul, are the Scriptures saying that money is evil? Hardly.

The book, "Business Secrets from the Bible: Spiritual Success Strategies for Financial Abundance" is a Christian's handbook for keeping in line with the Word of God with the aim of making oneself financially prosperous. And not only that, but the book also makes its readers privy to the ways by which one can improve relationships and ultimately one's spirituality.

Persuasive in method, "Business Secrets from the Bible: Spiritual Success Strategies for Financial Abundance" has the following offerings:

Postulates how income and other earnings are God's rewards for one's effort at building relationships with others while being of service to them.
Imbues the value of service, selflessness, change, leadership, and the ability to be able to create professional and personal spaces.
Stresses the importance of why one should focus on other's desires and how relationships could be made with them.
Discusses how readers would be able to change themselves for the better despite challenges and failures.
Table of Contents
To give us an idea of what exactly is in store for the readers of the book, here is its Table of Contents:

Introduction xi
Secret #1: God Wants Each of Us to Be Obsessively Preoccupied with the Needs and Desires of His Other Children 1
Secret #2: An Infinite God created us in His image with infinite imagination, potential, creative power, and desires 5
Secret #3: Humans Alone Possess the Ability to Transform Themselves 9
Secret #4: The Universe Was Created for Connection 17
Secret #5: Making Money Is a Spiritual Activity 28
Secret #6: Everything Important and Joyful You Have Achieved Has Been in Partnership with at Least One Other Person 35
Secret #7: Focus on Other People's Needs and Desires, and You Will Never, Ever Be Short of What You Yourself Desire and Need 44
Secret #8: Become a People Person 53
Secret #9: We Love the People Whom We Help More Than We Love Those Who Help Us 64
Secret #10: Life Isn't About What You Know—It's About Who You Are 71
Secret #11: In Order to Achieve Success, We Must and Can Build Up Our Self-Discipline, Integrity, and Character Strength 80
Secret #12: Your Authentic Identity Requires Other People 92
Secret #13: Know How Business Works; Understand Specialization and Cooperation 96
Secret #14: Each and Every One of Us Is in Business and Should Act Like a Business Professional 107
Secret #15: Develop All Four Dimensions of Your Life Simultaneously 111
Secret #16: Earnings and Profits Are God's Way of Rewarding Us for Forming Relationships with Others and Serving Them Faithfully and Effectively 121
Secret #17: Raise the Limits on Yourself and Others by Imposing Boundaries and Structures 128
Secret #18: The Importance of Service Is That You Cannot Lead If You Cannot Follow 136
Secret #19: Vision Is Necessary; Sharing That Vision Is Not Always Necessary 140
Secret #20: The Most Important Organ of Leadership Is Your Mouth 146
Secret #21: Change Is Scary 151
Secret #22: As Painful as Change Can Be, It Often Contains the Seeds of Growth 158
Secret #23: Because Change Is a Constant Reality, Life Is More Accurately Depicted by a Video Than a Photograph 162
Secret #24: The More that Things Change, the More We Must Depend Upon Those Things That Never Change 168
Secret #25: Press Forward Even When the Road Ahead Is Not Clear 177
Secret #26: Do Not Let Your Fear Conquer You—Press On 185
Secret #27: Become Strongly, Even Radically, Open to New Directions, Soft Sounds, and Faint Footsteps 190
Secret #28: Use the Power of Words, Sentences, and Sound 198
Secret #29: Feeling Right About Money Makes You Act Right 205
Secret #30: You Can Best Attract That Which You Best Understand 214
Secret #31: You Must Know Your Money, Which You Must Be Able to Measure and Count 219
Secret #32: Money Is Spiritual 223
Secret #33: Don't Live Beyond Your Means—Give Beyond Your Means 233
Secret #34: Giving Money Away Makes You Feel Wealthy 238
Secret #35: How You Feel About Yourself Is How Others Will See You 243
Secret #36: Giving Money Away Automatically Connects Us with Other People 246
Secret #37: If There Is No Hebrew Word for Something, Then That Thing Does Not Exist 254
Secret #38: Retirement Is Unhealthy 261
Secret #39: You Can Ruin Today by Planning Bad Things for Tomorrow 265
Secret #40: Retirement Tends to Isolate You 271
Final Thoughts 283
About the Author 285
Index 287

The book had garnered a lot of praise from both the Christian and the Financial community. Many of these reviews agree that the book is bold and an eye-opener, leading its readers to the Biblical definition of "abundance."

The following readers have these to say:

About the Author
The author of the book, Rabbi Daniel Lapin, is known within the Jewish community as a Torah Scholar, a leader, and a radio and television personality. He is also a presidential advisor and, of course, an author, his first book is 2009's "Thou Shall Prosper: Ten Commandments for Making Money." He is one-half of the team that founded the Pacific Jewish Center in Los Angeles. The good rabbi has been dubbed as one of the top 50 rabbis in America.